The young boy smiled excitedly at his father as former number-one professional tennis player in the world, Jim Courier, held the boy's hand and led him out onto the court at the PowerShares Series tennis championship on March 25 at the University of Southern California's Galen Center.
The boy is Asher Major. Diagnosed with autism at age four, the 12-year-old boy had tried several different sports – soccer, baseball, karate – but nothing has ever really clicked.
People with autism tend to be in their own world and have little interest in other people. They use limited verbal communication, avoid eye contact and prefer to play alone, often showing repetitive patterns of behavior and interests. Diagnosticians place them on a spectrum, because other similar mental disorders like Asperger's Syndrome have autism at their core.
It was in the spring of 2012 when Asher first held a tennis racket, during a group lesson for children with autism spectrum disorders held at the Burbank Tennis Center. Clarence Major, his father, had signed Asher up for the 10-week program held by ACEing Autism after attending a lecture about autism at UCLA.
ACEing Autism is an organization aiming to enhance the lives of children with autism through tennis.  Founded in Boston in 2008 by former tennis player Richard Spurling and Shafali Jeste, an assistant professor in psychiatry and neurology at UCLA, ACEing Autism now has 32 locations throughout the country.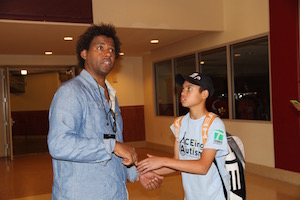 "I wish people could have seen how Asher was doing when he first started to play tennis," said Major. "I knew the event would be a great experience for him, but I didn't know it would go that well."
Inspired by April being National Autism Awareness Month, Spurling presented an idea to the March 25th championship organizer, InsideOut Sports & Entertainment, to have Asher and other ACEing Autism players walk with the tennis professionals on to the court. The organizers agreed it would be a great way to further raise awareness.
Years ago, his sensory issues would have made it difficult for Asher to attend a national event such as the one at USC. He would have run out of the stadium in fear or would have isolated himself by only talking to his nanny. He's gotten more confident and comfortable being surrounded by people after years of medication and therapies. In order to make sure things went well, Clarence Major went over the event's schedule with his son many times a day for several weeks in advance.
On the day of the event, the Major family arrived at USC 90 minutes before the match began in order to let Asher get familiar with the new setting. Carrying a tennis bag almost half his height, Asher walked back and forth from one parent to the next.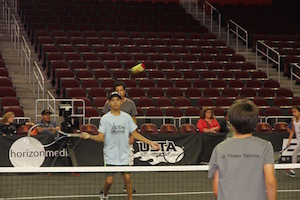 "When can I play? When can I play?"
He looked at his parents eagerly. His eyes lit up when he saw children playing tennis on two small courts.
"Daddy, can I go and play with them?" he asked.
"You need to go and ask the volunteer," said Major.
Asher put his backpack on the floor and took out his tennis racket. He went to the volunteer, smiled and looked directly into her eyes. "Can I play with them?" he asked.
With her permission, Asher joined the group. He was patient, waited until it was his turn and even volunteered to shag balls.
It was not like this when Asher first started playing tennis with ACEing Autism. He would run off the court 10 minutes after arrival and refused to return back to the group. He would interrupt other people's games.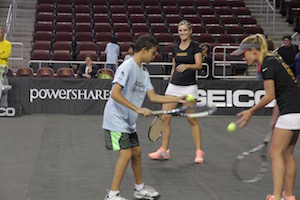 Asher was upset when the children had to clear the court for the USC tennis team before the real game started.
"Mommy, I'm not done playing tennis yet."
Asher walked to the audience seats and grabbed his mother Suzette Major's wrist.
"Maybe you can go there and ask the USC coach," said Suzette.
Asher looked over to where his mother pointed and walked to the other side of the court.
"Excuse me," said Asher. "Can I play with them?"
Richard Gallien, head coach of the USC women's tennis team, has a daughter with autism. He was impressed by Asher's big smile.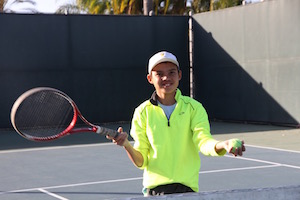 "I saw passion in there, " said Gallien. "He is pretty well coordinated. Some children with autism don't have such good hand-eye coordination."
Asher raised his racket and served a strong ball to one of the USC tennis players. The ball flew back. Asher ran closer to the net, leaned his body to the left, and hit a two handed backstroke. During the break, he mingled with other USC players and asked about their day. Standing off the court, the Majors were smiling.
"It was unreal," said Clarence, who teared up watching his son. "I never thought he could one day play tennis with [other] players."
Asher didn't want to play with other children when he started in the ACEing Autism program. Spurling recommended that Clarence consider private tennis lessons for his son with their coach, Jim Speir, after Asher showed his interest in tennis.
"I think tennis is a great way to improve motor and social skills for all children who have autism," said Speir.
In an article published in Journal of Autism and Developmental Disorders on the influence of social and recreational activities on people with autism, researchers found evidence that engagement in these activities also helps develop communication skills.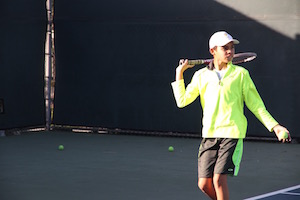 Jeste, the UCLA professor, was happy to witness Asher's growth and believes that tennis could help more children on the autism spectrum.
"The nice thing about tennis is that you can cater it to the ability of a child," said Jeste. "For example, some of the kids are only at the level of rolling a ball down the baseline, while others can play volley."
Asher outperformed others when he finished the program at ACEing Autism. Now he practices tennis with Coach Speir at least twice a week for 90 minutes. He always begs his father to let him play five more minutes when the tennis lesson is over.
"Ability-wise, Asher is ready to be on a high school tennis team," said Speir. "He just needs more practice with children his own age. I never thought he could play in a tennis match when I first met him."
As the second championship began, the Galen Center lights dimmed. Waiting to make his entrance, Asher high-fived tennis legend Jim Courier, held his hand, and walked on to the court with a wide smile on his face.
Contact Staff Reporter Scarlett Zhiqi Chen Here.
Full article click here